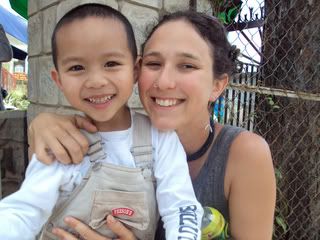 Emily Hirshorn and Baw from Da Lat, Vietnam
"We spent about 24 hours traveling between Hoi An and Dalat (a mountain town - reminds me of Chiapas). First we took a 12+ hour sleeper bus to a beach town called Nha Trang. We didn't want to stay there and there wasn't space on the next bus to Dalat with our bus company, so we got some moped drivers to take us to other bus operators. We found one with space leaving at 1pm. Since it was only 8:30am, we hired the moped guys to take us around for a few hours. They were great - we went to see a giant Buddha statue, another Buddhist temple, some cool railroad tracks (??) where a couple was getting their wedding photos taken -they asked to take some with us, too. Funny."
"On the bus, we met Long, who lives in California, but was born in Vietnam and he has been helping us out ever since! So nice to have someone TRULY bilingual. He's been taking us to local eateries and encouraging us to try new foods. Adrianne is more adventurous than me. She ate a chicken fetus and some kind of cooked blood."